Regarding Registered Trademarks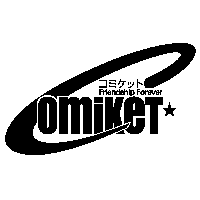 To All Those Concerned,

The names "Comic Market," "Comiket," and "Comike" (written in both Japanese kana characters and the Roman alphabet) have been employed as names for the doujinshi exhibition and marketplace organized and operated by Comiket Inc. and Comic Market Committee since 1975. The logo mark has been in use since 2000 and has been a trademarked in 2002. Doujinshis are self published books that are not widely distributed.

Currently, the Comic Market is held twice a year in the summer and winter at the Tokyo Big Sight and featuring an assembly of over 35 thousand doujinshi publishing groups and over 500 thousand general attendees conversing each time, thus making the Comic Market garner global attention not only as the world's largest doujinshi marketplace for amateurs, but also as an exemplary showcase of the tremendous flowering of doujinshi culture revolving around manga, comic books, animation, cartoons, and video games.

Furthermore, upon securing backing from The Japan Foundation--a special legal entity affiliated with Japan's Ministry of Foreign Affairs--members of the organizers of the Comic Market participated in the Venice Biennale's 9th International Architectural Exhibition by presenting a showcase themed "Otaku: Personal=Space=City" in the Japanese pavilion. The presentation included various aspects of the Comic Market itself and as well as aspects of the doujinshi culture at large, and went on to win considerable attention internationally. See below for links of the presentation.
http://www.jpf.go.jp/j/project/culture/exhibit/international/venezia-biennale/otaku/j/ (abstract in Japanese)

Comiket Inc. and the Comic Market Committee operates only operates the following two doujinshi marketplaces: Comic Market, which is held twice a year, and the Comiket Special, an event that is conducted in a format that is different from the regular sessions of the Comic Market.

The names we have listed at the beginning of this letter are registered trademarks and/or trademarks of Comiket Inc. and these trademarks are valid in other nations as well. Because we wish to prevent confusion to arise among fans of doujinshi publications and the greater doujinshi community, it is the policy of the Comiket Inc. not to allow these names to be used by doujinshi marketplaces,conventions,events and/or projects by anybody but ourselves.

In addition, the words "CATAROM" (written in both Japanese kana characters and the Roman alphabet) has been trademarked in September of 2012. In the future, the term "Catarom" and "CATAROM" will be used as an alternative name to the Comic Market DVD-ROM Catalog.

If you are considering organizing a doujinshi marketplace, convention, and/or any other type of public gathering involving the display and sales of doujinshis, or if you wish to publish a doujinshi and/or release information regarding doujinshi marketplaces in any printed form, or if you wish to provide publicly accessible services pertaining to information regarding doujinshi marketplaces in general or if you are considering any other public event or project, please do not employ a name that is similar to and/or incorporates the following names--"Comic Market," "Comiket," "Comike," and/or "Catarom" (either written in both Japanese kana characters and/or the Roman alphabet.) In particular, we strongly urge against the combination of "Comiket" or "Comike" as a term to help describe subject matter of your event, service, and/or publication, i.e. "XX Comike," "XX Comiket," or "XX Catarom." Please instead employ another name that best represents your event, publication, and/or information service's relationship to the world of doujinshis and doujinshi marketplaces. Also, please refrain from using the Comiket logo mark without permission.


---
in Japanese