Comic Market 96 : August 9th (Friday) ~ 12th (Monday), 2019 at the Tokyo Big Sight
Comic Market 97 : December 28th (Saturday) ~ 31st (Tuesday), 2019 at the Tokyo Big Sight
Comic Market 98 : May 2nd (Saturday) ~ 5th (Tuesday), 2020 at the Tokyo Big Sight

Important Notices
Important Notices
Comiket is a massive and very crowded event with approx. 200,000 participants per day. Please be well prepared.
Please agree on a meeting place and time with your group in case you get lost. Don't expect your Wi-Fi or phone to work.
Pay close attention to your valuables and passports. Beware of pickpockets.
Do not wait outside over night. You can only come after the first train.
For cosplay, you must use the changing room at Tokyo Big Sight. Do not come or go home in cosplay.
Please always ask before taking photos of individual people like cosplayers.
We may conduct luggage checks. Please follow instruction of staff and security.
We speak English at the International Desk. Come visit us if you need any help.
Please note that
you need to buy and wear an "Admission Wristband" to enter Comic Market 96
, to cover the increased costs due to changes to the venue. A different color wristband is needed for each separate day. This is a big change from past Comikets.
The paper catalog includes wristbands for all 4 days (at bookstores: 2,500 Yen; at Comiket: 2,000 Yen)
Wristbands for individual days are sold separately (at selected bookstores: 540 Yen/day; at Comiket: 500 Yen/day)
We encourage you to buy the wristbands beforehand, as the lines to buy them at Comiket might be long and stock is limited
Wristbands are available from July 13 at selected Animate, Toranoana and Melonbooks shops and their online store. We are ont aware of any that sell directly overseas/li>
A different color is needed each different day
Please wear the wristband around your wrist when entering Comiket. We will check at the entrance
The same wristband can be used at South/West Halls (Dojinshi Area) and the Aomi Exhibition Halls (Corporate Area)
Depending on the liness outside and the overall density inside, entry might become free for all at later hours. But, it could be that entry without a wristband is not possible the whole day
The DVD and online catalogs do not include wristbands
We prided ourselves of not charging any entry fees for visiting participants. But, due to restrictions to the Tokyo Big Sight related to the Tokyo Olympics 2020, we must do Comic Market at a much smaller space over 4 days. This unfortunately means much increased costs, and less space available for advertisement or Corporate Area, both important sources of income. Still, it is not realistic to further increase fees for amateur circles or corporations. So we have to ask visiting participants to share the burden. Additionally, the wristband will also function as a tool to prevent overcrowding at the much smaller venue.
We are not making this decision lightly, as it does not fit to our traditional policy to provide an open "space", that is a market. But we hope your understanding.
Welcome to Comic Market
Notice
Due to construction work for the 2020 Olympics and Paralympics, the entry process and layout from Comiket 96 onwards will be completely different from before. Attendees are strongly advised to read all of the information provided.
Location and Schedule
Comic Market 96: August 9, 2019 (Friday) to August 12, 2019 (Monday)
Comic Market 97: December 28, 2019 (Saturday) to December 31, 2019 (Tuesday)
Tokyo Big Sight(Tokyo International Exhibition Center)
West Halls, South Halls, Conference Tower

(Nearest stations: Rinkai Line Kokusai-Tenjijo [R03], Yurikamome Tokyo Big Sight [U11])

Aomi Exhibition Halls

(Nearest stations: Rinkai Line Tokyo Teleport [R04], Yurikamome Aomi [U10] or Odaiba Kaihin Koen [U06])

Please note that Tokyo Big Sight and the Aomi Exhibition Halls are a long distance apart, so choose your train station based on where you want to visit first.
Dojinshi Area
West Halls 1-4, South Halls 1-4
10:00 am - 4:00pm each day
Cosplay Changing Rooms
Women's: Conference Tower 1st Floor
Men's: Conference Tower 6th floor
10:00 am - 5:00pm each day, 3:45pm last registration
Cosplay Areas
Entrance plaza and other areas within Tokyo Big Sight
Corporate Area
Aomi Exhibition Halls
10:00 am - 4:00 pm each day
An admission Wristband is required for entry
Whilst entrance restrictions are m place, participants must obtain and ware an Admission Wristband for each day in order to enter the venue. Wristbands can be obtained in the following ways:
Wristbands for all four days are included with the paper catalog (but not the DVD or online catalogues)
You can purchase Wristbands on-site. The sales booths outside the venue sell Wristbands for the current day, whilst booths inside sell Wristbands for subsequent days. (500yen per day)
Both the paper catalog and Wristbands will be sold prior to the event at specialist Anime /Manga Stores. Note however that the price will be slightly higher than the on-the-day price.
What is Comic Market?
Comic Market (Comiket) is a marketplace where individuals and groups, can offer their own self-produced creations to a community that appreciate and supports such creative activities. Comiket primarily focuses on being an exchange place for the distribution and discussion of such self-published material, known as "dojinshi", amongst likeminded individuals. Comiket welcomes any self-published books, music, films, software etc. that are not available through standard commercial outlets.
Applications for participating as a circle close several months before the event. You cannot apply as a circle during Comiket itself.
One goal of Comiket is to aid creative efforts outside of the normal sphere of commercial publishers, and thereby encourage innovation and interaction within the broader community that centers around manga, anime and games. Comiket highly values individual creativity, initiative and freedom - and to that end we strive our best to accommodate a large and diverse collection of dojinshi/etc. publishing groups (known as "circles"). Within the constraints of Japanese law and the necessity to ensure the smooth and safe operation of the event, Comiket prioritizes freedom of expression for all attendees.
Comiket is a large scale, privately run exhibition and marketplace. Comiket is neither a commercial enterprise nor a governmental operation. The operation of the Comic Market is made possible by a volunteer-based organization known at the "Comic Market (Comiket) Committee".
History and Ideals
Comiket was established out of frustration regarding existing manga fan events and disappointment at the lack of diversity in commercial publications in the mid 1970's. Many venues where manga fans could convene tended to be narrow-minded and outlets for experimental young manga authors were limited in the commercial sphere. Thus, a manga critique group known as Meikyu ("Labyrinth") started publishing a manga review dojinshi, and also established an event where manga authors and creators of other mediums could share their publications.
That event, taking place on the 21st December 1975, was the very first "Comic Market". By today ' s standards it was small, featuring only 32 circles and approximately 700 participants in a single conference room. Yet the basic foundations of Comiket were already in place. Namely - an event focused on individual's personal creations; participants supporting and encouraging such creative efforts; a volunteer group managing the operation of the event, and all parties involved doing their best to support each other.
This emphasis on cooperation has continued to be part of the ethos of the event through to today. Comiket is an event of the fans, by the fans, for the fans - of both manga in general and myriad other forms of self-expression. Comiket strives to provide the maximum degree of freedom possible while at the same time maintaining order and safety so that the event can continue to be held year after year.
And so, over 40 years since that first event, Comic Market has grown to accommodate more than 30,000 dojinshi circles and 500,000 participants at each bi-yearly session. Each time, dojinshi authors and fans from across Japan and the world. with a common devotion towards a vast range of diverse creative endeavors, converge to express their independence, creativity and imagination.
In addition to dojinshi circles, Comiket also features a Corporate Area, attended by corporations who understand and support the ideals of the Comic Market. Many attendees wear costumes at Comiket, a hobby known as "cosplay". And Comiket sometimes plays host to related activities such as symposiums, exhibits, talk shows and similar. For the majority of dojinshi circles, the goal of their activities is not profit, but rather the enjoyment of communicating and interacting with other fans through their creations. The motivation and inspiration this brings lays the groundwork for even greater creativity. This is the paramount goal of the Comic Market.
Important Comiket Rules
All attendees must follow all rules established by the Comiket Committee without exception. Attendees must obey all instructions issued by police, firefighters, Comiket staff, security guards, and employees of the Tokyo Big Sight. Below are some of the rules of the Comic Market:
Anyone attending the Comic Market must obey Japanese laws and Tokyo Metropolitan Government ordinances.
Participants must follow commonsense rules for public behavior, respect others in personal interaction, and avoid causing crowd control issues or being a public nuisance.
All Comiket participants must follow safety rules established below:

Do not run or push people. With so many people, it is very easy for a someone to get trampled or crushed in a crowd. Always remain calm and don't rush. For safety reasons, it is also prohibited to walk on moving escalators.
Do not sit down or place luggage, sort books, etc. near fire extinguisher or emergency exits. These areas are marked by red or yellow tape on the floor. Furthermore, do not leave baggage unattended. If you come across a suspicious object, please inform Comiket staff or a security guard immediately.
Do not smoke anywhere except at designated smoking areas.
No open flames are allowed, nor bringing pyrotechnic devices or easily flammable items into Tokyo Big Sight.
Do not loiter inside or near Tokyo Big Sight late at night.
Do not swing, throw or kick objects around.
Do not tamper with Tokyo Big Sight property or use facilities without permission.
Do not use Tokyo Big Sight electrical power outlets without pennission.
Do not park cars on streets near the Tokyo Big Sight.
No loud sounds or music.
Only change clothes in the Cosplay Changing Rooms. Changing clothes in toilets is not allowed. Do not come to or leave Comiket in costume.
Drinking alcohol is not allowed at Comic Market.
Do not bring any pets or animals, other than service animals (e.g. guide dogs).
Flyers and free samples cannot be distributed in the hallways. Flyer distributors must pre-register, and limited to distribution to circles prior to start of each day's session. Circles may distribute flyers from their own tables.
Other activities may be prohibited or restricted based on the decisions of the police, firefighters, Comiket staff, or security guards.
Prohibited and Restricted Items
Attendees must not bring in any items whose possession or use is either prohibited or restricted by Japanese law.
All weapons and weapon-like items must be in compliance with Firearms and Swords Control Law.
All items deemed to be a violation of Penal Code 175 (obscenity restrictions) or the Child Pornography Law are not permitted.
Other restricted items include:

Electrical generators, large batteries, people-carrying vehicles (i.e. bicycles, unicycles, skateboards, roller-skates, etc.), lighter-than-air balloons, and any other items deemed dangerous by police, firefighters, Comiket staff, or security guards.
Cosplay and Photography
Comic Market welcomes those who would like to wear costumes, but they must come to premises of Comiket in plain clothes. Once at Comiket, first register as a cosplayer and then use the changing room provided. (See "Location and Hours of Operation" above for more details.) Registration is 1,000 yen for each day. Note that all specific policies and rules regarding costume play are listed on PG34 of this catalog as well as listed on the official Comiket website. (Both are in Japanese only.)
Do not wear anything that 1s overly exposing. There can be legal issues with costumes that expose too much skin.
Do not wear anything that may stain or deface property or other's clothing, such as wet paint or substances that can rub off easily
Costumes should be designed with safety in mind - e.g. by making large parts removable to ensure safety during movement. Sharp objects and pointed tips may harm others simply by walking through crowds.
When wearing costumes that resemble uniforms of police officers, firefighters, etc., please ensure you will not be mistaken for real uniformed officers. Any attire or conduct that could cause others to mistake you for such is prohibited. The Comiket staff at the changing room will be happy to answer any questions regarding regulations on attire and items.
Anyone who wishes to photograph or film someone else at Comiket must adhere to the following policies.

Always get permission from the person. This rule applies even if the subject is in costume. Comiket features Cosplay Areas for the specific purpose of facilitating interaction and photography, but it is still necessary to get permission before photographing anyone.
When taking photos, please be aware of the safety of others around you. Please do not block passage or stand on objects and do not use equipment that may interfere with the flow of people. Use of light reflectors and tripods, etc. is restricted in some locations. All photographers must obey signs and directions issued by Comiket staff.
PressCoverage and Interviews
lf you are attending the Comic Market as part of any type of reporting for a public or commercial news media service or entertainment provider, you must register at the Press Registration located in the North Concourse near the Main Entrance and follow the instructions issued at that time. Japanese laws regarding privacy restrict the unsolicited photography of private individuals (even in public spaces). Please refrain from any interviewing or filming inside or near Comiket prior to completing registration.

Navigation Comiket: A Beginner's Guide
Comiket is a unique event. It is massive and very crowded. We recommend first time visitors to come around 12:00 noon to avoid long lines (Don't forget to get an admission wristband) You should be in good condition and dress in consideration of the weather, which can be very extremely hot and humid in summer and strong cold winds in winter.
While we have first aid stations with volunteering medical professions, they can only provide very rudimentary care. If you have a pre-existing condition, we recommend to seek advice from your doctor.
Please use public transportation. The Tokyo Big Sight webpage listed above has detailed access information.
Do not leave your personal belongings unattended, especially when you are waiting in line. It is very easy to not find your spot when returning to the line. There are pickpockets, so make sure to keep money, passports, tickets and other important items with you at all times. If you lose or drop something important, contact Comiket staff for assistance.
Mobile phone and/or internet access may be unreliable due to heavy traffic. Don't expect free Wi-Fi to be available. Agree on a time and place to meet with your group, in case you can't contact each other online. We do not provide announcements over the speakers, except for emergencies.
It is easy to get lost or separated at Comiket. Make sure to have a memo with your hotel name in Japanese and how to get there, in case you get separated from you group.
Comiket is harsh even for adults. Parents need to prioritize the safety of their children if they are coming together. Always keep an eye on your children and their condition. Comiket does not have childcare services or medication for children. If your child can not return home alone, make sure to give them an ID badge with name, address and emergency contact information. Contact Comiket staff immediately if your child has gotten lost.
Comic Market is a free and diverse space for expression. Diversity means, there can be expressions that you do not like or disapprove of. There are as many values as persons. If anything that is disliked by somebody is deleted, diverse expression is not possible. You are free to feel whatever about a certain work, but please have respect to all works at Comiket.
International Desk
The various Comiket staff have information on how to respond to common questions that attendees from overseas may have, but for more complex topics Comiket has a section known as the International Desk ready to assist you.
The International Desk has mainly English, Chinese (Mandarin) and Korean speakers, and can be found at the General Information desks in West Hall 4 and the Aomi Exhibition Halls. Please feel free to come and ask for our help. We welcome everyone who shares our enthusiasm and interest in dojinshi culture.
All of us on the Comiket staff hope you will enjoy your visit to the Comic Market.

Information for Overseas Attendees in Comic Market 96 Catalog
Map of Comic Market and surrounds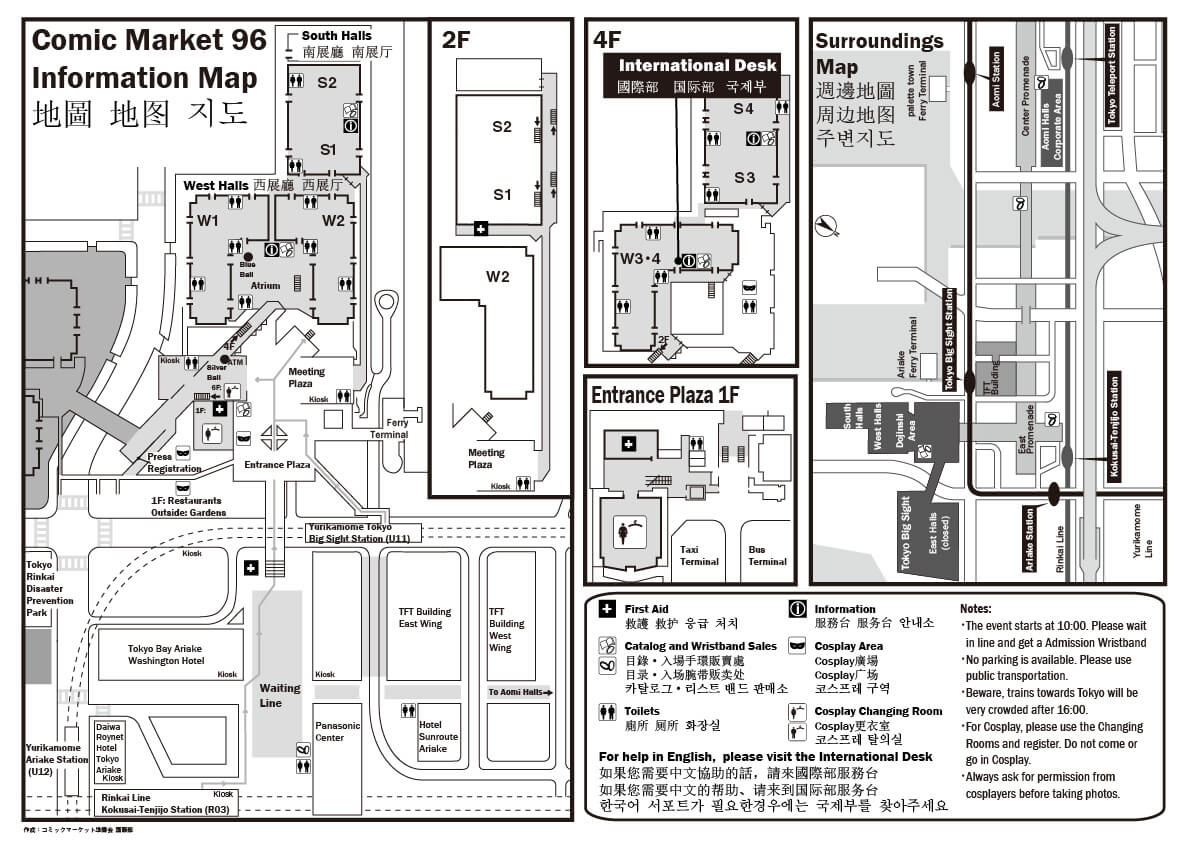 Comic Market96 Information Map(PDF)
For help in English, German, Chinese or Korean:
Please visit the International Desk in West Hall 4. and the Aomi ExhibitionHalls.
What is the Comic Market
What is the Comic Market (English Version PDF File about 5.0MB) by Comic Market Committee on Jan. 2014
Comic Market's Ideals and Vision -- English translation excerpt from the circle application form to Comiket
The Comic Market today and overseas participants (English Version PDF File about 3.6MB) by Koichi Ichikawa on Dec. 2009
---
Return to Japanese Index Page
Return to Internaitonal Index Page
---
[Update: Jul. 24 2019]